BLACK MOTH JOIN FORCES WITH CANDLELIGHT RECORDS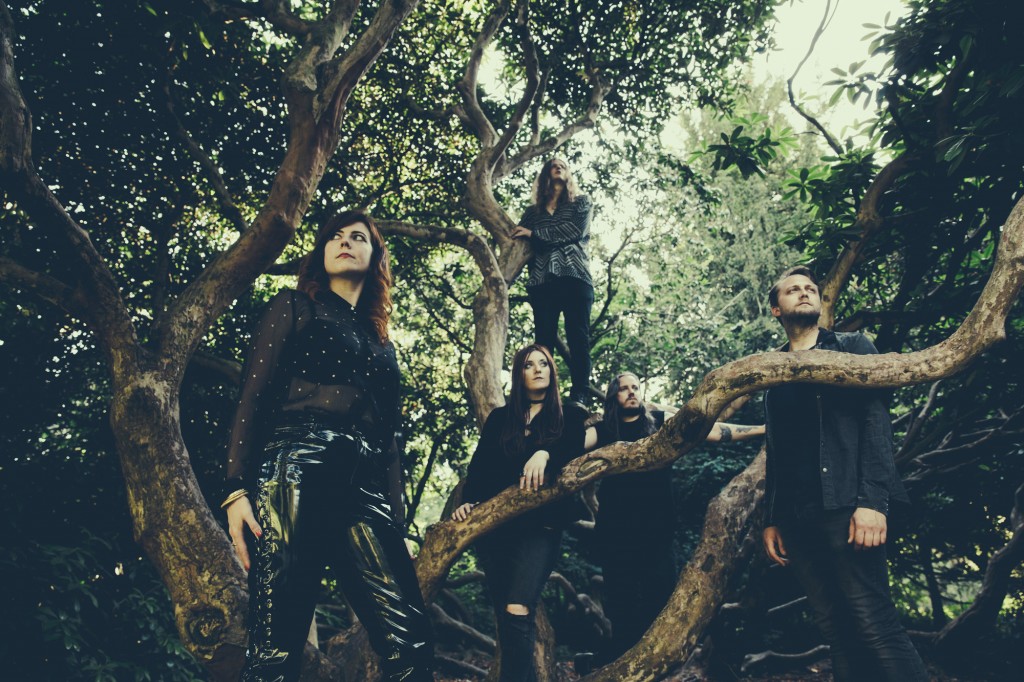 Having released their first two albums via New Heavy Sounds, Black Moth will have their latest / third studio album issued via Candlelight Records on January 26th 2018, the result of an alliance between Candlelight and NHS.
Titled 'Anatomical Venus' and produced by Andy Hawkins (Hawk Eyes, Maximo Park) with Russ Russell (Napalm Death, Dimmu Borgir) handling the mix, this 10-track affair sees the Leeds / London outfit – vocalist Harriet Hyde, guitarists Jim Swainston & Federica Gialanze', bassist Dave Vachon and drummer Dom McCready – further honing the various elements of their sound to make the hooks more barbed and the focus more collective.
Lead single 'Moonbow' provides the first taste of things to come; "An ode and an offering to the moon herself," according to Hyde, the track successfully combines wide-eyed wonder with true metallic weight, the whole thing supported by a Ben Foley-directed clip that delivers from the off in both intensity and colour (Foley previously worked with BM on their spectacularly kinky 'Looner' clip, 2015).
What's for sure is that 'Anatomical Venus' is the heaviest Black Moth album to date, taking the signature Mothic sound – a dark and heady swirl of garage rock, mind-blowin' psychedelia and amplified over-drive – down a more targetted path, effectively opening a new chapter in a career that stretches back to an inaugural single in 2010 and a debut album, 'The Killing Jar', in 2012.
For 'The Killing Jar' and its 2014 follow-up, 'Condemned To Hope', the band brought in Jim Sclavunos (a member of Nick Cave and the Bad Seeds since 1994) to handle production and mixing duties, and the results immediately connected with fans and media alike…
"Like Electric Wizard meets Band Of Skulls, in a dungeon" is one press description that sticks in the mind, with other points of reference including Black Sabbath, the Stooges, PJ Harvey, Melvins, Kyuss and Patti Smith; however, with 'Anatomical Venus' Black Moth are seeking to forge their own path, both musically and conceptually. The album's name and central theme, arrived at when Hyde was introduced to the 18th century wax models of the female form employed by male surgeons to learn their craft, provides a strong platform for both the artwork and the lyrics, allowing the singer to take command and truly find her voice…
"The Anatomical Venus spoke volumes to me," she reflects. "She embodies the male gaze, a history of men dissecting women in an attempt to understand her, reveal her magic, snuff out her unruly flame, while all the time needing her to be beautiful and aesthetically pleasing to their taste. These models are not simply practical medical models for education – they are fetish objects, women stripped back as far as you can go. But there is a look of defiance in their eyes as if to say, 'keep looking if you like. I dare you. Peel back my skin and peep behind my ribcage, you won't find anything unless I choose to tell you'."
On the live front, Black Moth have appeared at a number of high-profile UK festivals (including Download, Reading & Leeds and Bloodstock Open Air), and guested – in the UK and Europe – with artists such as L7, Uncle Acid and The Deadbeats and The Sisters Of Mercy.
The band's full list of confirmed shows for 2017 / 2018 is as follows, with headline shows in London & Leeds lined up to celebrate the release of 'Moonbow':-
2017
Nov 9: Hoxton Square Bar & Kitchen, London (Special Guests, The Pearl Harts)
Nov 10: Belgrave Music Hall, Leeds (Special Guests, Chambers & Method Acting)
Tickets avilable here: https://dice.fm/artist/black-moth
Dec 22: Electric Ballroom, London (Orange Goblin Xmas Show)
2018
May 4 – 6: Desertfest, London
'They draw you in with sensual tones and whisper words of horror into your welcoming embrace' – Metal Hammer
'Refreshing' – Q Magazine
'Polished and technical but never lacking intensity' – NME
'Black Moth is heavy with tunefulness. That is really rare these days. Anatomical Venus is the bonus pack, you get both!' – Donita Sparks (L7)
'A slick accomplished act' – Classic Rock Prog
'Never ponderous, always engaging, this is doom you can put on when your non-metalhead mates around and when the world starts to end' – 8/10 – Drowned in Sound
'West Yorks' premier garage-sleaze-doom-grunge sludge-metallers' – Classic Rock
"Like Electric Wizard meets Band Of Skulls, in a dungeon' – Kerrang
"Sabbath infused sludge with a strong female vocal presence that will undoubtedly destroy eardrums and teeth during the course of their upcoming live shows" – The 405
"Sludgey, grungey, NWOBHM-ey, Riot Grrly- don't you just love it when a band are so awesome that they're undefinable?" – Terrorizer
facebook.com/themothpit
www.facebook.com/candlelightrecords
www.facebook.com/newheavysounds