EMPEROR, MAYHEM and ENSLAVED team up for exclusive Grieghallen event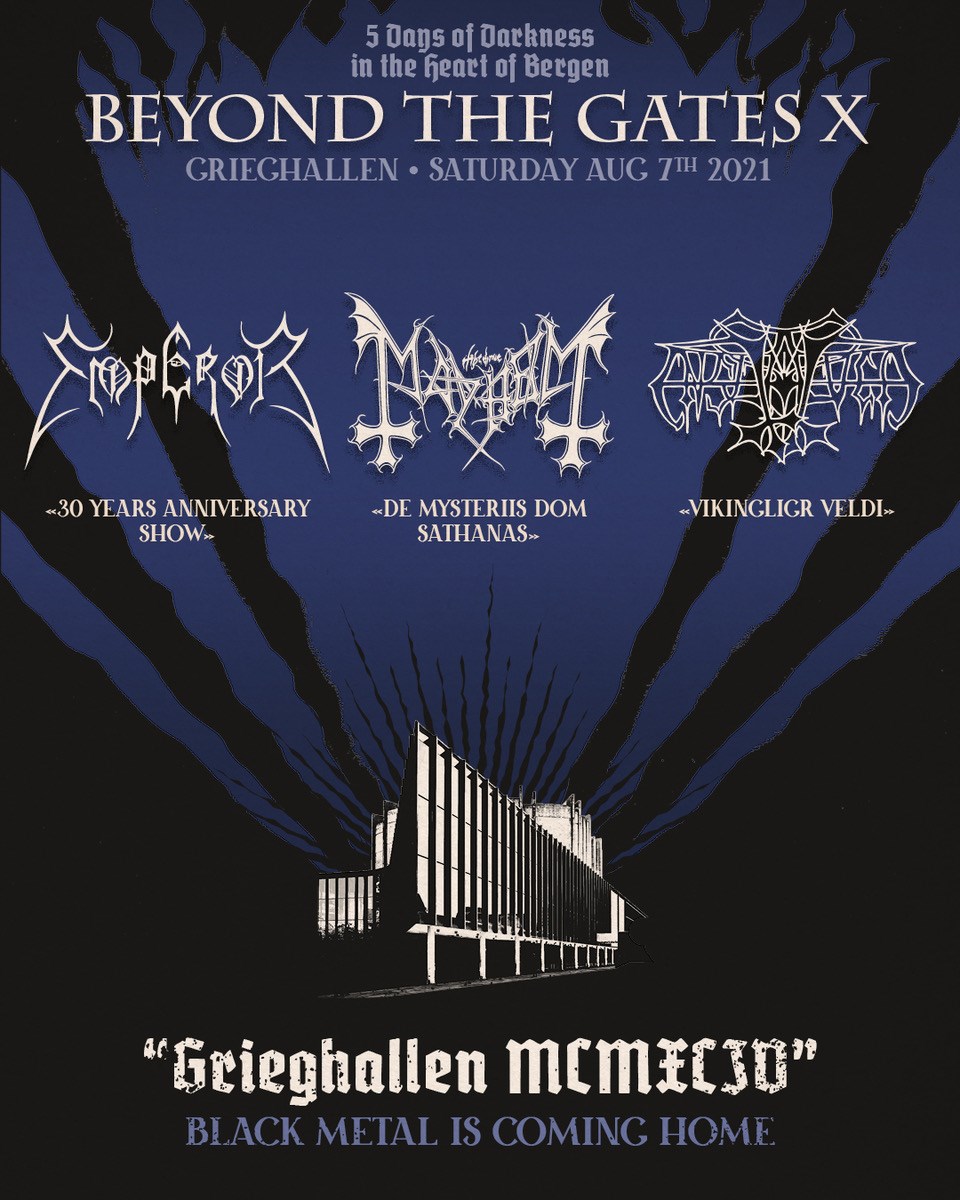 In 1994 extreme music changed forever. That year three pioneering Norwegian metal bands released their debut full length albums – Mayhem's "De Mysteriis Dom. Sathanas", Emperor's "In the Nightside Eclipse" and finally Enslaved's "Vikingligr Veldi" were all unleashed upon the world in 1994. All of them recorded in the legendary Grieghallen Studios in Bergen.
On August 7th, 2021 black metal is coming home. For the first time in history these three acts will team up for a very special concert in the spectacular confines of Grieghallen, where these highly influential classics were recorded.
The event dubbed «Grieghallen MCMXCIV» will see Emperor do a very special set embracing three decades of emperial darkness, which was spearheaded by their Grieghallen legacy, Mayhem will perform their magnum opus, "De Mysteriis Dom Sathanas", in its entirety, and Enslaved will revisit their debut "Vikingligr Veldi".
Never before has the public been given an opportunity to experience first-hand where the foundations of what became a worldwide phenomenon – Norwegian Black Metal – were laid, performed by the originators of it all.
Reflects the artists:
"What we were lacking in experience back then were duly compensated by youthful courage and the urge to create something that were uncompromising and grandiose. Pytten saw all these counterpoints, and with his experience and unique way of listening, he managed to fulfill what we set out to achieve the best possible way. Even if we were teenagers at the time, he always took our musical vision seriously and facilitated extremely creative days and nights in the studio." Ihsahn & Samoth, Emperor
Says the organizer:
We kind of have to pinch ourselves. To be able to experience these three ground breaking artists together on one stage is just mind-blowing. Not only does Grieghallen bear a massive historical significance to the worldwide phenomenon that Norwegian Black Metal has become, but it is also one of the most revered concert venues in Scandinavia. With Mercyful Fate headlining the same venue Friday night, arguably the innovators of the black metal aesthetics, followed by Emperor, Mayhem and Enslaved, who took extreme music to new heights, this is just a combo almost too good to be true. We can't wait for August 2021.
Torgrim Øyre, Beyond the Gates