URNE ANNOUNCE NEW ALBUM A FEAST ON SORROW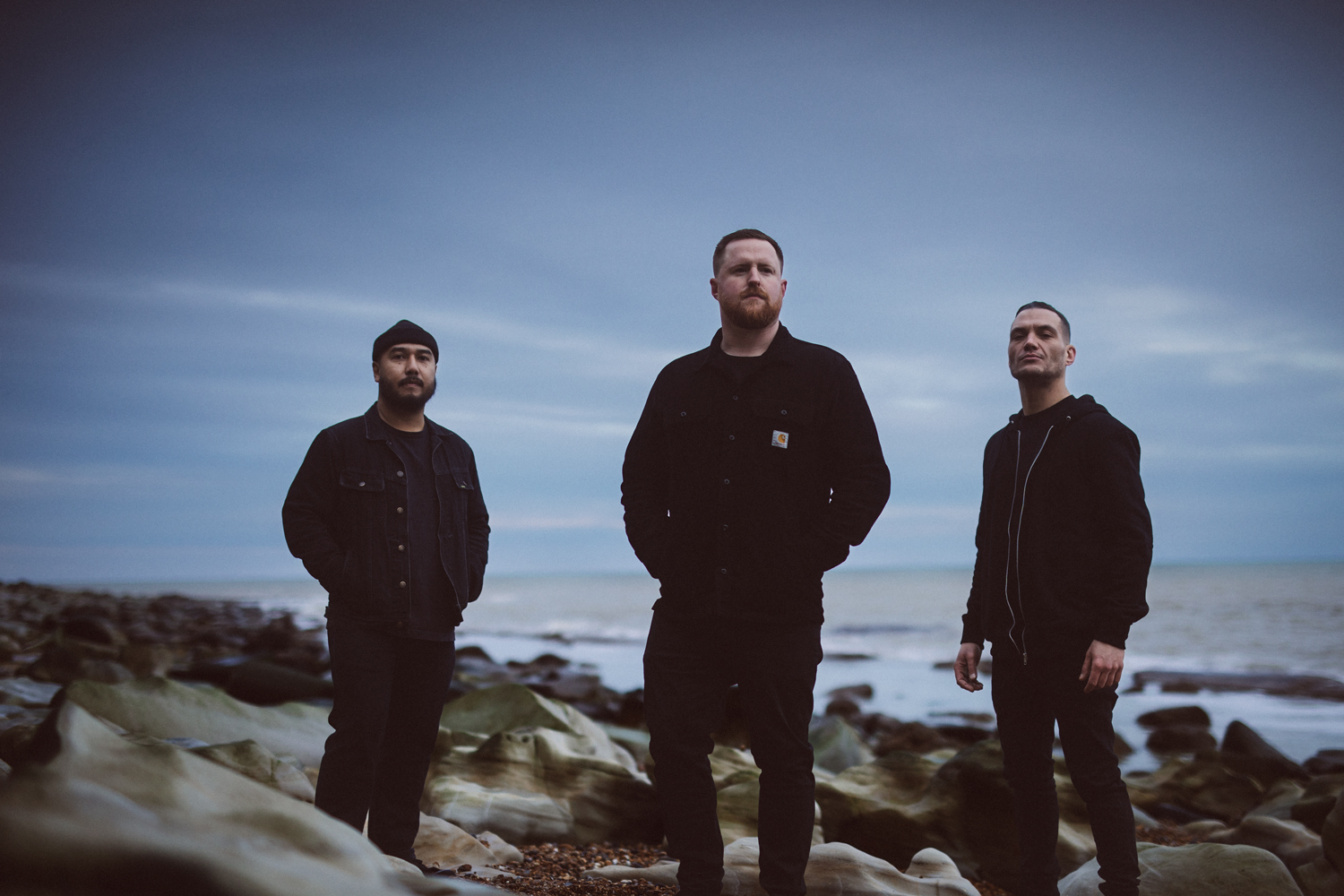 SET FOR RELEASE ON AUGUST 11TH 2023 VIA CANDLELIGHT RECORDS
– PRE-ORDERS LIVE NOW
FIRST SINGLE, 'BECOMING THE OCEAN' REVEALED TODAY
WATCH THE VIDEO FOR 'BECOMING THE OCEAN'
HEAR NEW MUSIC LIVE AND FOR THE FIRST TIME
AT INCINERATION FESTIVAL, LONDON, MAY 13TH 2023
EUROPEAN JUNE 2023 DATES IN SUPPORT OF GOJIRA
London metal trio, Urne, have today announced details of their deeply personal second studio album, A Feast On Sorrow. Due for release on August 11th 2023 via Candlelight Records, A Feast On Sorrow is a stark rumination on the grim inevitabilities of disease, dementia and deterioration in old age, felt intimately by Urne frontman, Joe Nally.
Pre-order A Feast On Sorrow HERE.
Joe Duplantier, frontman of modern metal goliaths, Gojira, unexpectedly reached out to the band directly, – having been a fan of the band's debut album, Serpent & Spirit – offering Urne the opportunity to record with him at his Silver Cord studio in Brooklyn, New York.
Joe Nally, Urne frontman adds; "We had many ups and downs throughout this process, but the end result is something the three of us are extremely proud of.
Having the honour to travel to New York to work alongside Joe Duplantier and Johann Meyer on this record is something we didn't think would be possible and, on top of that, to have Ted Jensen master this record, has been an experience we once dreamed of.
This whole album is extremely personal for me. It's made me grow as a person and has also helped me understand the grieving process better than before. This isn't a joyful or uplifting record, it's very raw and real, and when the opportunity to work with Joe came to be, we all knew he was the perfect person to capture the message of this record."
Additionally, Urne have released the first track taken from A Feast On Sorrow, titled 'Becoming The Ocean.' The track is arguably the most immediate entry
into the maelstrom, using Nally's life watching the waves batter England's sweeping south coast as a metaphor for the pressure a family feels drowning in the suffering of one of their own.
Watch the official video for 'Becoming The Ocean', HERE.

Offering more detail on the songs meaning, Nally says; "'Becoming The Ocean' has ties to a move within my life that was supposed to bring my family joy and a new life. Sadly, it hasn't been as smooth as we all hoped.
I walk by the ocean every day and something with such beauty and grace, also holds such power and an ability to crush and destroy.
The video was shot in Pembrokeshire, Wales. This beach is known for a rock formation called Church Rock which works perfectly with the lyrical content of this song."
Urne will debut new music at Incineration festival, Camden, London, on May 13th, where they will open the stage at Electric Ballroom. They will also make a mainstage appearance at this years' Bloodstock festival, taking place at its usual stomping ground of Catton Hall, Derbyshire, August 10th– 13th.
Meanwhile, fans across Europe will be able to witness Urne at one of several shows in support of Gojira, in addition to some summer festivals. A full list of announced appearances detailed below.
URNE TOUR DATES 2023
13/05: Electric Ballroom, Incineration Festival, London, England
06/06: Afas Live, Amdsterdam, Netherlands*
12/06: Barba Negra, Budapest, Hungary*
13/06: Mala Sportovni Hala, CZ*
18/06: Arena Open Air, Vienna, Austria*
19/06: Alcatraz, Milan, Italy*
20/06: Arena, Geneva, Switzerland*
24/06: Basinfire Festival, Spalene Porici, Czech Republic
27/06: Tallin Noblessner Foundry, Estonia*
04/08: Metal Days, Velenje, Slovenia
05/08: Vagos Metal Festival, Quinta Do Ega, Portugal
12/08: Bloodstock Festival, Catton Park, Derbyshire, England
*in support of Gojira